Single stage centrigual pump
Pump category
Pump selection tips
The single stage centrifugal pump mentioned here contain the end suction pump, close-coupled pump, inline pump. All of those pump's impeller overhungs on one end of the shaft, so they belongs to the group of overhung pumps.

The end suction pump is the most common centrifugal pump used in projects. We have IES end suction pump, NO end suction pump and NE end suction pump. Each type end suction has its own application. IES end suction pump is for general application. NO end suction pump has open or semi-open impeller are used for liquid with solids or high viscosity. NE end suction pump has inducer impeller to meet the application with low NPSH.

Another big group of pumps are close-coupled pumps. IEC close-coupled pump are derivated from IES end suction pump and have the save peformance with IES. ES colse-coupled pump are the different type of close-coupled pump usually used of 50Hz electricity.

The third group of the veritcal single stage pump are inline pump, we have IEV inline pump and ESV inline pump. IEV inline pump are also derivated from IES end suction pump and have the same performance with IEC close-coupled pump. ESV inline pump has the same performance with ES close-coupled pump.

So we suggested, if you need overhung pump, please consider firstly IES for end suction pump or IEC for close coupled pump and IEV for inline pump. because IE family pump can be used both for 50Hz and 60Hz electricity.
IES type single stage end suction pump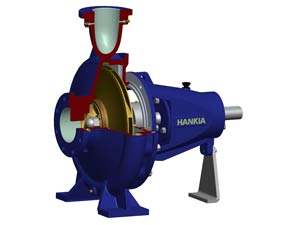 IES type is the single stage, end suction pump with back-pull-out structure, which meets the standard DIN24255 and ISO2858. to ensure the dimensional interchangeability with other pumps. IES type end suction pump is Hankia's major pumps for application of single stage end suction pump. The IES end suction pumps are usually applied for water or liquid with less solids. After being equiped with Hankia's optional skit, IES type end suction pump can be also used for hot water and light corrosive liquid and sea water. IES type end suction pump usually has closed impeller, the semi-open and open impeller can be supplied as well if it is requested.
Main designing features
3D design used in the whole design process and CFD analysis and being embodied with knowledge and experience of the fluid experts in Hankia Pump.
Nozzle arrangemant in compliance to ISO2858 standard, so it can be definitely interchangeable with your current same standard pumps.
Modular design reduce the number of sizes of the spare parts to allow manage the spare parts easily.
Standard bearing lubrication is oil, the Grease lubrication is also possible.
Optional shaft sealing for single seal mecanical seal, double mechanical seal, cartridge mechanical seal and soft packing.
Optional stuffing box cooled by third coolant, bearing bracket with cooling jacket or finned shape to allow the pump to transfer your very hot liquid.
Main benefits
Simple structure to save your maintenance cost and project budget.
large-scale production to ensure economic cost and easy spare parts supply.
Improved efficiency.
Many choices for material, cast iron, cast steel, all stainless steel and duplex stainless steel, bronze for your different application.
Wind performance range and optional tailor-made design service to allow you to have a reasonable project design in Hankia Pump's end suction pumps.
Excellent pumps with fast delivery.
Long lifetime and easy mentenance.
Main application
Water lift and transporation in water plant and municipal projects.
Agricultural Irrigation.
Power station, hospital, buildings
Offshore Projects and sea water.
Air-conditioning and heating.
Water boosting.
Fire fighting.
Water circation.
Basic service data
Capacity

up to 560L/s (2000m3h), if you need special performance,Hankia Pump can offer tailor made pumps for your application

Head

up to 180m(590ft), if you need special performance,we can offer tailor made pumps for your application

Working temperature

up to 120°C, the declaration should be cleared before the project inquiry if the temperature >80°C

Design pressure

1.6Mpa.

Nozzle

up to 350mm or tailor design. Flange standard can be DIN, ANSI or other standard.
Performance range
Performance range at 50Hz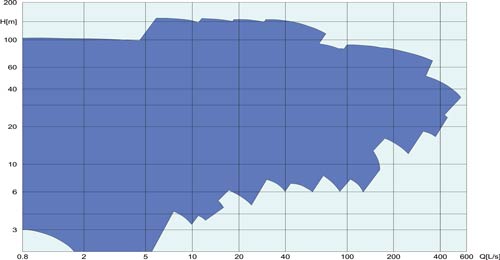 Performance range at 60Hz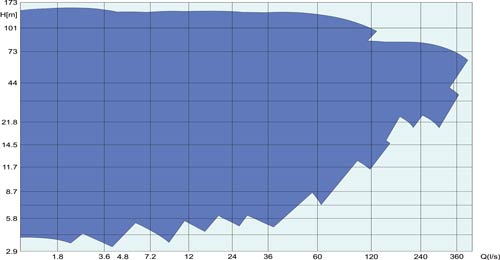 Download technical documents