Self-priming pump
Pump category
Pump selection tips
The self-priming pumps talked here belongs to the group of end suction pump. The special design of the self-priming pump casing collect a quantity of liquid to remains in the bottom of the casing. So it is not neccessary to use a vacuum pump to vent the air before starting the pump after being shut down.

According the liquid type and application fields, we have general self-priming pump mainly for clean water, it is SLF general self-priming pump. Another main type is chemical self-priming pump designed according to ISO5199 and API160 standard, it is our SP type chemical self-priming pump.

Self-priming pumps are used anywhere that a pump is running with a suction lift and not convient to have external priming device and usually the suction lift heigh is less than 6 meters (20feets).
Self-priming pump, chemical self-priming pump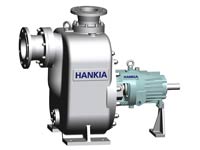 SP type is the single stage, end suction chemical self-priming pump with back-pull-out construction which is in compliance with ISO5199, API610. SP type chemical self-priming pumps have good suction lift head, the maximum suction head can be up to 6m. The chemical self-priming pumps are usually applied in transferring corrosive luquid, like vitriol, nitric acid, sea water, sulfur liquid, etc..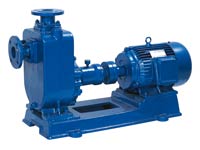 SLF type self-priming pumps adopt axial liquid-recharge structure which compose of suction chamber, turbination room, liquid charge room, liquid return room and air liquid separation chamber and so on. The pumps usually don't require maintenance by dismantling the parts. Foot valves are not necessary in the pipe system and some liquid should be filled in the pump chamber before starting the pump.