Vertical turbine pump
Pump category
Pump selection tips
The two main types of turbine pumps are vertical turbine pumps and submersible turbine pumps. The vertical turbine pump is sometimes called lineshaft turbine pump whileas the submersible turbine pumps called borehole pumps.

The confusion on selection of vertical turbine pump will be affected by submersible pump. For the submersible pump, the motor and the pump that is compacted as a unit submerged into fluid ,while, for the vertical turbine pump, only the bowel assembly submerged into luiquid, the motor is dry installed, the bowel assembly is driven by the motor though the lineshaft inside the column.
LS type vertical turbine pump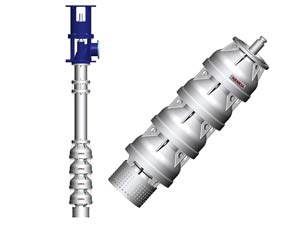 LS type is the vertical turbine pump (sometimes called lineshaft turbine pump) with centrifugal type impeller, mixed flow type impeller or axia-flow type impeller. LS type vertical turnie pump is completely according to application and performance request. The LS vertical turbine pump is driven by standard vertical motor or driven by horizontal driver (electric motor, desiel engine) by the right angle gear box. The underground column and shaft is devided into seveal sections, so LS type vertical turbine pump is flexible to get the desired length to meet the deepth of the well. LS type vertical turbine pump can offer any tailor maded according to the project request.
Main designing features
3D design used in the whole design process and CFD analysis and being embodied with knowledge and experience of the fluid experts in Hankia Pump.
Centrifugal type impeller, mixed flow type impeller or axia-flow type impeller has fine hydraulic performance, high efficiency and good production quality.
The shaft sealing is optional for mecanical seal and soft packing.
The long columnn is devided into several flanged type sections, it is flexbile to get your desired length.
The long shaft has several sections that is coupled together by sleeve clutches and fixed inside sleeve bearings to ensure the coaxial.
Sand collar are used to stop the sand or solids.
Sleeve type liqud luricated sleeve type bearing has long life time.
Upper stood is possible to tailor made.
Heavy duty service design, the shaft can absord the huge and unstable torque.
Main benefits
Advance and modular design with fine production that is supplied by Hankia Pump.
Sleeve bearings are made of fine material or supplied by famour brand, like Canada Thordon.
Flexible column length.
Supper technical team and find production to ensure the tailor made and best quality.
Complete testing system to ensure the performance before delivery.
Many choices for material, cast steel, all kinds of stainless steel, duplex stainless steel and steel alloy.
Excellent pumps with fast delivery.
Epoxy coated parts submerged inside the liquid.
Main application
Water intake from river, sea, pools, etc.
Irrigation, drainage, flood control, dewatering.
Fire fighting.
Chemical industry.
Sugar and berry industry.
Offshore projects and sea water transferring.
Power station and nuclear industry
Basic service data
Capacity

up to 2500L/s (9000m3h), or as per tailor-made.

Head

up to 150m(492ft), or as per tailer made.

Working temperature

up to 60°C

Design pressure

1.6Mpa / 2.5Mpa

Nozzle

up to 1200mm or tailor design. Flange standard can be DIN, ANSI or other standard.
Performance range
Performance Chart A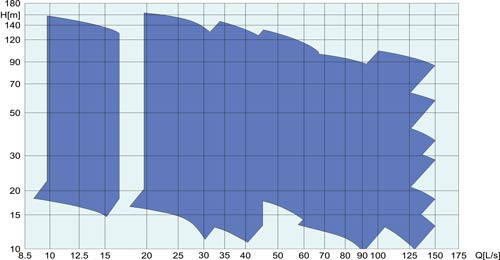 Performance Chart B